BLOG
Monday, December 2, 2019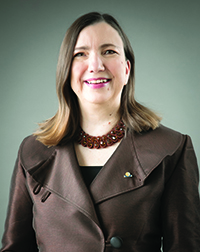 It was an inspiring moment for me seeing the late Claudette Mackay-Lassonde, P.Eng., become PEO's first female president in 1986.
Three years later, a gunman entered Montreal's École Polytechnique—the same institution from which Mackay-Lassonde had earned her chemical engineering degree in 1971—and opened fire on women in an engineering classroom, killing six and injuring three. He continued to roam the school, targeting female students, ultimately claiming 14 victims—12 engineering students, one nursing student and one employee.
As a young engineer, to see a historic moment for women in the profession followed shortly thereafter by a senseless act of targeted violence against aspiring female engineers was utterly heartbreaking. It was a stark reminder that, after a century of progress for women, there are still those among us who want to turn back the clock to a time when a young woman's future involved only marriage and motherhood—not an engineering career or leadership.
The anniversary of the massacre—December 6—is now commemorated as the National Day of Remembrance and Action on Violence Against Women. It serves to honour those who have experienced gender-based violence and reminds us of the need to take action.
I learned at an early age how a strong female professional can serve as a positive influence. My mother was an optometrist who had her own practice and was heavily involved with her regulatory body, the College of Optometrists of Ontario.
As my own career progressed, I was fortunate to be guided by several inspirational female engineers such as Anne Sado, P.Eng., president, George Brown College; Monique Frize, PhD, P.Eng., the first woman to graduate from the University of Ottawa with a degree in electrical engineering; Dr. Cristina Amon, P.Eng., former dean, Faculty of Applied Science & Engineering, University of Toronto; and Catherine Karakatsanis, P.Eng., FEC, current chief operating officer at Morrison Hershfield Group and a former PEO president. These women have had a profound impact on engineering generally and women in engineering specifically.
Further, I have witnessed amazing contributions from some great women through my volunteer service with PEO, including former president Diane Freeman, P.Eng., FEC; longtime volunteer Jeanette Southwood, P.Eng., FEC; current PEO Councillor Marilyn Spink, P.Eng.; and Helen Wojcinski, MBA, P.Eng., FEC, chair of PEO's 30 by 30 Task Force, which supports the Engineers Canada initiative to raise the percentage of newly licensed engineers in Canada who are women to 30 per cent by 2030. And, among my colleagues on PEO Council, there are currently nine elected and appointed women councillors working to regulate the practice of engineering in Ontario, including Marisa Sterling, P.Eng., FEC, who will take over the PEO presidency next year.
Despite this extremely talented group of leaders, the reality is their participation in the profession still doesn't reflect the gender make-up of society. But progress is being made.
Last year, women made up almost 18 per cent of new PEO licence holders; and there are more to come: In 2017, there were 6,612 female students enrolled in Ontario engineering schools. According to the Ontario Network of Women in Engineering (ONWiE), women make up 30 per cent or higher enrolment in first-year engineering programs across most ONWiE-member schools—a stat that's steadily growing. And ONWiE reports that of girls taking grade 12 physics, 40 per cent go on to apply to engineering programs.
So, as we work to resolve the underrepresentation in engineering and encourage women engineers to seek leadership roles in the profession and their workplaces, we must also work to stamp out hateful attitudes among those who mean us harm. This is why it is important that we remember the atrocity at L'École Polytechnique every year.
Unfortunately, the conversation surrounding this issue has largely been the same for the past 30 years. For meaningful change to occur, the conversation must become more expansive and include a broader group of people. We are all in this together. Women can't be the only ones taking action—we know what the issues are; we've lived the issues. It's critical for men to invest themselves in the dialogue or else we, as a society, will never reach our ultimate goal.
As the late writer Andrea Dworkin said: "It is incumbent upon each of us to be the woman that (the gunman) wanted to kill. We must live with this honour, this courage. We must drive out fear. We must hold on. We must create. We must resist."
Resources
Engineering Dimensions - Montreal Remembered 30 Years Later
Government of Canada - The National Day of Remembrance and Action on Violence against Women
Ontario Ministry of Children, Community and Social Services - National Day of Remembrance and Action on Violence Against Women