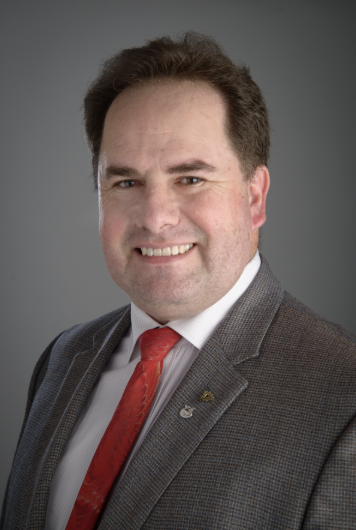 Wayne Peter Kershaw, P.Eng., FEC
Niagara Chapter
During his 18 years of service to both the Hamilton-Burlington and Niagara chapters as well as PEO headquarters, Wayne Kershaw has served the profession with unfailing enthusiasm, dedication and passion.
A mechanical engineer with a bachelor of engineering (aerospace) from Ryerson University, Kershaw began volunteering with the Hamilton-Burlington Chapter, serving in a variety of roles including chair, vice chair and Government Liaison Program Committee chair. He started the Western Region GLP Academy, which has since grown to a province-wide program, and actively encourages volunteer participation at all levels, fostering a positive and supportive culture. He also made great efforts to encourage collaboration with neighbouring chapters including the Niagara Chapter, which he later joined as an executive member.
As a key participant on the Niagara executive, Wayne organized and supported numerous activities, including technical tours at Niagara College, member appreciation events, AGMs and educational outreach events. During a period of transitional leadership at the Niagara Chapter, Wayne stepped in as vice chair, providing valuable advice and direction to the chapter.
Wayne has also provided leadership to the profession as a regional councillor on PEO Council from 2011 to 2013. He has offered his expertise to several PEO committees and task forces, including the Enforcement Committee, Legislation Committee, Council Composition Task Force, Repeal of the Industrial Exception Task Force, the Western Regional Congress Committee and more.
Wayne is known in the volunteer community as an exemplary leader, consistently assisting with or leading events, promoting the value of the P.Eng. licence and encouraging his colleagues to volunteer and contribute to the engineering profession.
Watch his Order of Honour video to learn more.