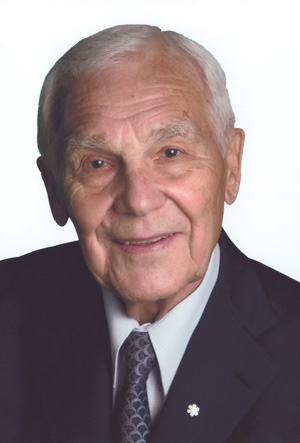 Walter Curlook, CM, BASc, MASc, PhD, DSc., DEng., FCAE, P.Eng.
Management Consultant Distinguished Adjunct Professor, University of Toronto
Described as "an industrial renaissance man of the 20th century", Walter Curlook, PhD, P.Eng., is a visionary, innovator, scientist and engineer, with an over-riding focus on the commercial application of research. He has left a lasting imprint on the mining and metallurgical industry in Canada and around the world.
At 25, Dr. Curlook joined Inco on a permanent basis as a research metallurgist with a keen understanding of, and devotion to, innovation. Throughout his 50-year career, he spearheaded the development of new technologies and products, inventing or co-inventing some 12 patented processes, most of which were commercialized to improve the company's productivity and profitability, and its performance in environmental and worker occupational health and safety.
Of particular note, was his inspirational leadership and direction in modernizing remote-controlled mining methods that made mining easier, safer and more than twice as productive.
Perhaps his finest achievement as President of Inco Metals Company was his direction of a $600­million sulphur dioxide abatement program in Sudbury, described as one of the largest environmental projects ever completed by the mining industry.
Dr. Curlook has strongly promoted close collaboration between industry, universities and governments, championing a variety of joint ventures. He was founding Chairman of Cambrian College of Applied Arts and Technology, an advocate for incorporating Creighton Mine as the base for the Sudbury Neutrino Observatory, and a primary influence in the creation of Science North and three Centres of Excellence.
Inducted as a Member of the Order of Canada in 1996, Dr. Curlook retired from industry the following year, reverting to his primary love of teaching and learning as Distinguished Adjunct Professor in the Department of Materials Science and Engineering at the University of Toronto.