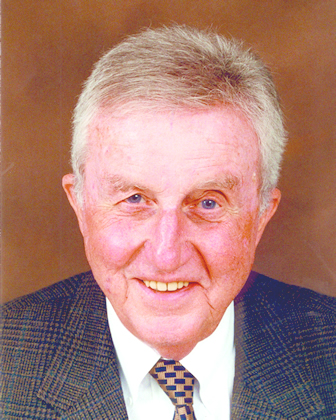 Victor Milligan, P.Eng.
Co-founder, Golder Associates
Victor Milligan, P.Eng., had only one standard. Whatever he did, it had to be the best. He was an international expert in dam construction, founder of one of the world's most successful consulting engineering firms, mentor to young engineers and scientists, and world-class athlete. He was President then Chair of Golder Associates, formally retiring in 1994, but continuing with Golder as a retained consultant and, in his private practice, serving on international panels and boards. On March 4, 2009, Victor Milligan passed away while vacationing in Mali, West Africa.
In 1960, as a talented young geotechnical engineer, he founded the first office of Golder Associates, in Toronto, in partnership with Dr. Hugh Golder, and was the driving force behind the company's innovative ownership model. Today, Golder Associates is a pre-eminent, world-class, employee-owned consulting company, providing ground engineering and environmental services through over 7000 staff across six continents. Golder is recognized as an employer of choice, having been named among the 50 Best Employers in Canada and 50 Best Managed Companies in Canada each year since 2000.
Milligan was recognized internationally for his contributions to the practice of, and research and education in, geotechnical engineering. His pioneering work on ground improvement, dams, tunnels and fundamental soil behaviour improved the quality of life for millions of people, particularly those in developing countries, through projects that provided a reliable source of hydroelectric power; much needed relief from flooding; and secure containment of waste materials, such as mine tailings and sludge, from industrial mining projects.
He also contributed to the development of Canada's infrastructure by providing innovative geotechnical solutions for such major projects as hydroelectric and thermal generating stations, the TransCanada Highway, transportation tunnels and the realignment of the Welland Canal.
Through the international expansion of Golder and his involvement in overseas projects, Milligan brought Canadian engineering expertise into the limelight of the world stage.
As a balance to his technical and business side, Victor Milligan was also a world-class athlete, who participated in the "Miracle Mile" at the 1954 British Empire Games in Vancouver, placing fourth in the race that saw Roger Banister become the first person to run a mile in under four minutes in competition.