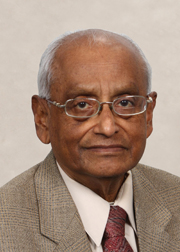 Tapan Das, P.Eng., PhD
Mississauga Chapter
Described by his peers as a volunteer with tremendous energy to make things happen, Tapan has earned a reputation as an influential figure in PEO's chapter system and is credited for helping many newcomers to Ontario navigate their way through the engineering licensure process.

As chair of the Mississauga Chapter in 2010, Tapan guided one of the largest chapters through one of its most productive and active years. He led by example, organizing and participating in many activities and representing the chapter externally at PEO functions and congresses. To increase the profile of, and interest in, their events, Tapan often consulted his professional network to secure high profile speakers.

He is also a passionate advocate and mentor for those who received their engineering educations outside of Canada. While PEO has received recognition for its achievements in facilitating such applicants on their path to licensure, Tapan is recognized by many as building the framework and laying the foundation for this accomplishment. He worked diligently to establish a mentoring program for his home chapter and petitioned for, and subsequently led, a pilot project to incorporate the concept into several other chapters. Based on the success of this initiative, Council decided to expand the program province-wide. Now called the Licensure Assistance Program, it is available in 20 chapters and has been recognized by the provincial government as helping to make the engineering profession accessible to newcomers.
Click here to watch Tapan's gala tribute video