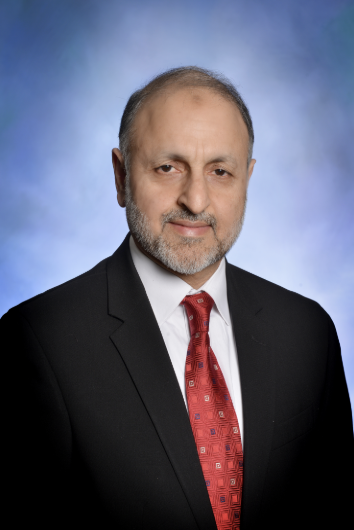 Sardar Asif Ayyub Khan, P.Eng. MSc, MBA, FEC, PMP
Windsor-Essex Chapter
Sardar Asif Khan has been chair, vice chair, secretary, GLP chair, Learn to Leverage Lean subcommittee chair and volunteer of the Windsor-Essex Chapter for the past 13 years, providing valuable leadership and demonstrating an exceptional commitment to the profession.
An electrical engineer with a bachelor of science in engineering degree from the University of Engineering and Technology, Lahore and a master of science in engineering degree from Wayne State University, Asif has accomplished much since he began volunteering in 2006.
An expert in lean manufacturing concepts in his professional life, he was instrumental in initiating the chapter's successful Learn to Leverage Lean subcommittee, which provides free talks and tours to educate the public and engineering community about the benefits of lean. Based on Asif's leadership, the group eventually worked with the University of Windsor engineering school to create a successful lean principles course for graduate students that remains in high demand.
He also developed the chapter's successful annual "Innovation Station—Engineering Your Life" event that showcases engineering to the public and students through booth demonstrations, popsicle bridge building competition and school outreach by local engineers. The event won the top award at PEO's Chapter Leaders Conference in 2015 and 2016, and continues to be one of the chapter's most successful events.
Currently Windsor-Essex Chapter chair, Asif has also been active on the Chapter Leaders Conference and Planning Committee; as a mentor with the Licensure Assistance Program; as a judge for the Windsor Regional Science, Technology and Engineering Fair; member Ontario Professional Engineers Foundation for Education and as an Alternate Warden in the Ritual of the Calling of an Engineer (Camp 14) for the obligating graduating engineering students from the University of Windsor.
Watch his Order of Honour video to learn more.