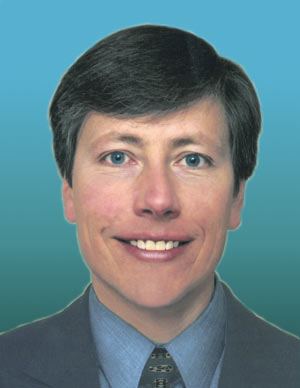 Richard Weldon, P.Eng.
Through his involvement in Etobicoke Chapter and his other association activities, Richard Weldon has exemplified his significant commitment to the engineering profession.
Upon joining the chapter's Executive Committee, Engineer Weldon became an active participant in PEO affairs. He subsequently was elected and served as his chapter's Vice Chair, Chair and Past Chair. This chapter experience provided a background for his membership on the Chapter Structure and Revitalization Team (called START) Committee, which reviewed and defined the evolving role of PEO's chapter system. Richard's participation and leadership in this initiative led to his appointment as Chair of START II, the implementation committee for the START recommendations.
A strong interest in PEO's broader scope led to his election to Council as Regional Councillor in 2001. As Junior Councillor for the first year of his two-year Council term, Engineer Weldon chaired the West Central Region Nominating Committee. Today, he sits on PEO's Discipline Committee and Election Procedures Review Task Force.
A long-time coordinator of his chapter's National Engineering Week visits to local high schools, Richard is also now a PEO representative on the National Engineering Week Ontario Steering Committee.
It is for this breadth of service and well-informed leadership that Professional Engineers Ontario is proud to invest Richard Weldon as a Member of the Order of Honour.