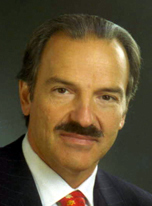 Pierre Lassonde, MBA, P.Eng.
President and Director, Newmont Mining Corp.
Pierre Lassonde has made wide-ranging contributions to his country and to his profession as a successful business person, philanthropist, community leader, supporter of scientific research and mining authority.
With over 25 years of experience, Lassonde has acquired a reputation as one of Canada's leading gold analysts and is author of The Gold Book: The Complete Investment Guide to Precious Metals. He achieved early recognition in the 1980s when he co-founded two highly profitable companies, Franco-Nevada Mining and Euro-Nevada Mining. Now, as president and director of Newmont Mining Corporation, which has operations on five continents, Lassonde is leading the world's top gold producer.
Throughout his career, Lassonde has promoted mining education and research within Canada and internationally. He established the Lassonde Institute for Engineering Geoscience at the University of Toronto and has revitalized the university's Mineral Engineering Program, which was subsequently named after him. He is also a long time supporter of the Canadian Mining Hall of Fame, which has found a permanent home at the university, due largely to his support and involvement.
Lassonde's strong commitment to developing the knowledge and skills of the next generation is reflected in his remarks, "We should never forget that the most important natural resource of our country is not nickel, gold or diamond, but its people."