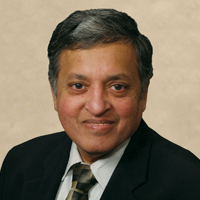 Pappur Shankar, P.Eng.
Mississauga Chapter
Since joining the Mississauga Chapter executive in 2004, Pappur Shankar has worked continuously to raise its profile and establish a strong link between the membership, PEO and the local community.
During his three years as chapter chair, Pappur strived to recognize the diversity of the chapter membership. He initiated the chapter's Women in Engineering committee to encourage women to consider engineering as a career and promote the value of licensure to female engineering graduates.
He also helped develop the chapter's mentoring program, which sees professional engineers provide guidance and encouragement to engineering graduates throughout PEO's licensing process and their transition into the profession. The success of this initiative, especially with newcomers and EITs, led to the creation of a province-wide program endorsed by PEO council.
A true leader in PEO's chapter system, Pappur implemented several ideas to motivate existing chapter executive members and to encourage new recruits, including volunteer recognition ceremonies and special plaques of appreciation. To broaden the reach of his chapter's activities, he coordinated partnerships with neighboring chapters to stage numerous seminars highlighting the profession. He has also organized many other successful events, including full-day, professional development workshops. His Engineers as Managers event in 2010 attracted over 350 engineers and the 2012 Engineers as Entrepreneurs workshop drew 150 guests and featured a keynote address from Mississauga-Streetsville MPP Bob Delaney.
Pappur's success in attracting politicians to chapter events and his leadership in building relationships with his area members of provincial parliament to promote the role of the association, contributed to the Mississauga Chapter being recognized with a PEO Government Liaison Program Chapter Award in 2010.