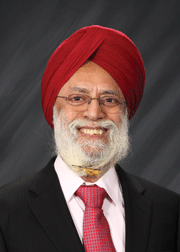 Mohinder Singh Grover, PhD, P.Eng., FEC
Willowdale-Thornhill Chapter
Over many years volunteering with PEO, Mohinder Singh Grover has demonstrated a passion for giving back to the profession and helping others in the community.
Serving as both a volunteer and executive on the Willowdale-Thornhill Chapter, Mohinder has helped organize seminars and recommend speakers through his extensive professional network; mentor engineering interns through the chapter's mentorship program; and honoured members' contributions as chair of the awards committee.
In addition to his service with the chapter, he has volunteered his time and expertise with PEO's Experience Requirements Committee, assessing the credentials of applicants and assisting with proctoring PEO exams.
And at Ontario Power Generation/Atomic Energy Canada Limited/Candu Energy, he was the go-to person for those seeking guidance on attaining the P.Eng. licence.