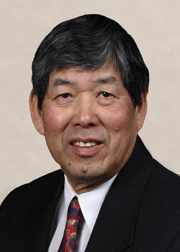 Michael Kwok-Wai Chan, P.Eng.
Willowdale/Thornhill Chapter
Highly regarded for his commitment to the values and vision of PEO, Michael has enthusiastically championed the profession both as a volunteer and directly from association headquarters.

As PEO chapter manager for eight years, he often went above and beyond the expectations of his role. During this time, Michael strongly supported the development of PEO's Government Liaison Program (GLP) and associated chapter GLP committees. This work has proven to be of significant value to the profession because the increased awareness of PEO among legislators built through the program contributed to the provincial government's willingness in 2010 to facilitate the most significant changes to the Professional Engineers Act in almost a quarter century.

Upon his retirement from PEO, Michael embarked on a career volunteering for the association.

He joined the executive of the Willowdale/Thornhill Chapter, where his knowledge of chapter operations helped improve the chapter's business plans, activity reports and operations. He similarly invigorated the chapter's government relations efforts while chairing its GLP committee for two years. During this time, he spearheaded a successful chapter-sponsored public town hall discussion on the Harmonized Sales Tax that included participation by the provincial Minister of Revenue and two local MPPs.

Coincident with and following his service on the chapter executive, Michael put to work his vast experience with PEO volunteers as a member of the Advisory Committee on Volunteers, including three years as chair. Colleagues attribute the committee's success in achieving its objectives to Michael's ability to find consensus amongst strong personalities with differing views as well as his impressive policy setting abilities.
Click here to watch Michael's gala tribute video