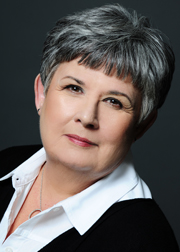 Martha Stauch, B.A., MEd.
After retiring from her career as an educator, Martha Stauch welcomed the opportunity to serve the engineering profession and quickly became a valued contributor to the success of PEO, its committees and Council.
She was appointed by the provincial government to serve on PEO Council in 2008 as a Lieutenant-Governor Appointee (lay member) and, during her six years of service, continuously went above and beyond expectations for participation in PEO affairs. Recognized by her Council peers as an avid and generous contributor, her devotion to volunteerism inspired many associated with PEO.
Always interested in taking on new challenges, she was dedicated to understanding the issues with which Council dealt and was never shy about engaging in debate. She was firmly committed to making decisions based on what was best for the profession while keeping in mind her duty to the public she represented.
As a former teacher, Martha brought valuable insight and an important perspective to many PEO outreach initiatives, including the Engineer-in-Residence program and the Education Committee, on which she served as the Council Liaison and an active member of its conference committee.
"I loved my time on this committee," Martha says, "because I met engineers who had a passion for working with young people. They loved their profession and wanted to share this love with young people and their teachers."
She also helped maintain the profession's high standards of professional practice and ethics as a member of the Discipline and Registration committees. She additionally devoted significant time to assisting PEO's search for a new registrar as a member of the Human Resources Committee.
Martha recently returned to volunteering at PEO as an appointed member of the Council Term Limits Task Force.
Watch Martha's gala tribute video here.