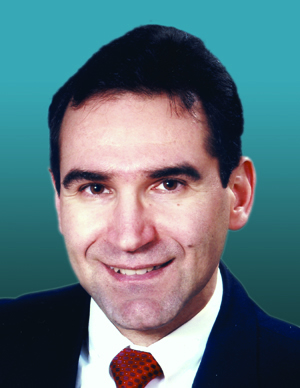 John Severino, P.Eng.
As a member of the North Bay Chapter Executive for nearly 20 years, John Severino has played a leading role in promoting the engineering profession in his community.
As Chair in 1991-'92, and working with his counterparts in other chapters, Engineer Severino was instrumental in amending chapter by-laws to encourage participation of women in engineering and to enable community service activities on behalf of the profession.
Committed to promoting engineering as a career option, John is perhaps best known for dedicated and continuing leadership in organizing Students' Night, a tradition in North Bay. Students' Night brings students who are at a critical decision point in their academic and future professional lives together with professional engineers. He also always finds time to act as a judge at the annual North Bay Regional Science Fair.
A master organizer of events for the North Bay engineering community, Engineer Severino has arranged newsletters, golf tournaments, casino nights and Engineers Day, a long-standing professional development opportunity involving guest speakers on technical topics, a keynote address by PEO's President-elect, a newspaper supplement, and a dinner/dance.
For his ongoing support of the activities of his chapter and of the profession, PEO is proud to recognize John Severino by investing him as a Member of the Professional Engineers Ontario Order of Honour.