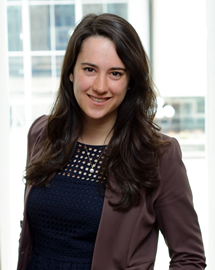 Heather Murdock, EIT
For Heather Murdock, EIT, enrolling in PEO's Engineering Intern (EIT) program was the logical next step after graduating in civil engineering from Queen's University. Murdock is now working with engineering consulting firm Hatch Mott MacDonald, where all engineering graduates are strongly encouraged to obtain their P.Eng. As an EIT, she has gained experience with a wide range of water management and transportation related projects, including inflow and infiltration analysis for a new wastewater collection tunnel, and looking at the impact of high-intensity rain events on the team's designs. She has also been involved in implementing low-impact development storm water features for a section of the Toronto subway system, storm water master planning for a small town, and environmental approvals work for Durham Region.
Murdock's leadership skills and commitment to the engineering profession are further demonstrated through her extensive volunteer experience. She has been volunteering with Engineers Without Borders since 2008 and is co-director for its 2014 Global Engineering Symposium. She leads communications initiatives and the scholarship subcommittee of the Water Environment Association of Ontario Young Professionals, and also serves on the Hatch Mott MacDonald diversity committee as secretary and leader of a communications task force to improve visibility and bilingualism. Murdock has also become increasingly involved in PEO's West Toronto Chapter.