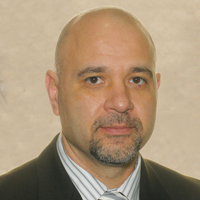 Gheorghe M. Bacioiu, PhD, P.Eng.
Windsor-Essex Chapter
Since receiving his licence in 2001, Dr. Gheorghe (George) Bacioiu has been the Windsor-Essex Chapter's champion of science, math and engineering education and a remarkable ambassador for the profession with the general public.
Passionate about education outreach initiatives, Gheorghe has been a volunteer for PEO's Engineer-in-Residence (EIR) program continuously for the past 12 years. The program partners engineers with educators and industry to bring real world experience to the teaching of science, math and technology. As part of this initiative, George conducted presentations and workshops for students in grades JK to 8, engaging them in hands-on learning through the design and building of projects ranging from bridges and benches to bird houses and air bags.
As a result of his success with the program, he became an advisor in 2011-2012 for the EIR pilot project Bridging Worlds: An Engineering Education, which paired undergraduate engineering students and teaching candidates to develop learning activities related to the Ontario science and technology curriculum.
George also served on the Windsor-Essex Chapter executive for six years until, in 2007, he elected to return to school to complete PhD. While on the executive, he served two terms as treasurer and one as vice chair, and was a founding member of the chapter's Lean Concepts Subcommittee in 2006. This group continues to organize technical presentations on the principles of Lean and how it applies in various industries.
An international engineering graduate, George frequently speaks to gatherings of newcomers, sharing his experiences as a professional engineer in Canada and providing information on PEO's licensing requirements.