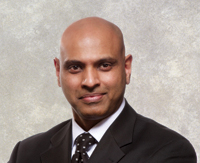 Desmond Gomes, MSc, P.Eng., PMP, FEC
Brampton Chapter
Since joining the Brampton Chapter in 2000, Desmond Gomes has significantly influenced the chapter's considerable growth and public stature in the local community.
Desmond has held almost every executive position with the chapter, including secretary, treasurer, vice chair and chair. Described by colleagues as a highly dedicated professional, he has been instrumental in organizing and promoting a full calendar of such events as technical seminars, professional networking initiatives and education outreach activities to promote the role of PEO and the merits of the profession. As part of the chapter's commitment to education, Desmond is a regular guest at middle school career fairs, sparking an interest in students to pursue an engineering education.
A driving force behind PEO's current mentorship program, Desmond was vice chair of the Mentorship Task Force, which developed the workable program model and implementation plan approved by council in 2009. Launched in five chapters one year later, the program now runs in 16 chapters with over 500 engineering interns benefitting from mentor relationships.
Most recently, Desmond initiated the Information Technology Sub Committee with two other volunteers in the West Central region. The subcommittee is developing the specifications to enhance the effectiveness and efficiency of PEO's PRISM system, the communication management program used by all chapters for website content and email blasts.
In 2011, Desmond was elected to the Board of Directors of the Ontario Society of Professional Engineers.
"I have spent over a decade working with our fellow engineers," he says, "and have always chosen experiences that provided the most impact towards advancing the profession and advocating for the professional engineer."