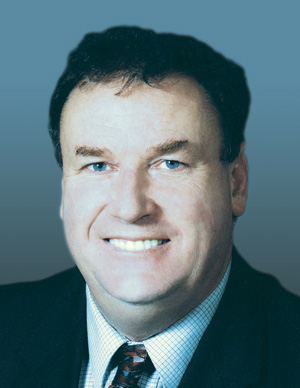 Bryan J. Parkinson, P.Eng.
Through his more than 20 years of dedicated service, Bryan Parkinson, P.Eng., has been an exemplary ambassador for the engineering profession in northern Ontario.
A long-time member of the Sudbury Chapter Executive, including two terms as its Chair, Parkinson is most noted for his innovative contributions to student outreach programs. Chief among them was the chapter's "Engineering-for-a-Day" program that pairs high school students with professional engineers at their workplaces to learn first-hand the opportunities available. Under Parkinson's leadership, the event grew from 40 student pairings to nearly 80 before responsibility for it was transferred to other members of the Executive
As the chapter's Past Chair, he worked to establish practical succession plans to ensure the continuous strength of the chapter's leadership.
Taking the next step in his own succession plan, Parkinson continued to serve the association in new capacities, including as Northern Region Councillor for two terms, a member of the Professional Practice Committee, and a member of the Discipline Committee for over a decade.
Regarded as a mentor to young members of the profession, he provides leadership to those registered in PEO's Engineering-Intern-Training program and other junior staff members at J.L. Richards & Associates Limited, where he is a director.
It is for these extensive and influential activities aimed at the future of his profession that PEO is proud to invest Bryan Parkinson as a Member of the Professional Engineers Ontario Order of Honour.