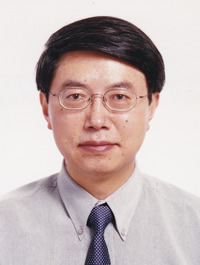 Bin Wu, M.A.Sc., Ph.D., P.Eng., FIEEE, FEIC, FCAE
Senior NSERC/Rockwell Industrial Research Chair and Professor, Electrical and Computer Engineering, Ryerson University
Dr. Bin Wu is a leading electric drive and renewable energy researcher whose work has significantly benefited Canadian industry and academe.
His research and new product development collaborations with industry have resulted in technical and commercial successes for several Canadian companies. For example, many of his designs and innovations have been implemented over the last 20 years in Rockwell Automation's megawatt medium voltage (MV) drive products, which has helped to make the company one of the top three MV drive manufacturers in the world. He also teamed with Honeywell Aerospace Canada to develop next generation motor controllers for the aerospace industry; Lumacell to develop battery chargers and uninterruptable power supplies for the lighting industry; Allanson International to develop a digital protection module for neon lighting; Industrial Lighting to develop an HID lamp dimmer; Toronto Hydro to develop faster chargers and charging stations for electric vehicles; and Hydro One to develop microgrid technology.
To further support engineering research and industrial collaboration, Dr. Wu established a top research facility in Canada in power electronics and electric drives. In 2001, he founded the Laboratory for Electric Drive Applications and Research (LEDAR), which has been recognized as the most advanced research facility of its kind in a Canadian university. Most of the innovative technologies and patents that are part of Rockwell Automation's MV drives were developed and experimentally verified in this laboratory.
Dr. Wu is also the principal investigator of Ryerson's WindTech Research Laboratory, currently under construction in Fergus, Ontario. When completed, the lab is expected to be the best equipped wind energy research laboratory in a Canadian university.
Now Senior NSERC/Rockwell Industrial Research Chair at Ryerson University, Dr. Wu has enhanced Canada's reputation on the global stage by actively participating in many Institute of Electrical and Electronics Engineers (IEEE) and other international conferences. He has also published more than 300 peer-reviewed technical papers and two Wiley-IEEE Press books, and holds more than 25 granted and pending US/European patents.