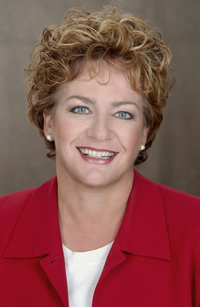 Anna (Anne) Maria Sado, P.Eng., MBA
President, George Brown College
Throughout her professional and volunteer careers, Anne Sado, P.Eng., has had a significant impact on many lives, and in the process contributed to an economically, socially and culturally vibrant Ontario.
Since 2004, Sado has been president of George Brown College, where she is the inspirational and practical leader of initiatives that are transforming the way education is delivered. Under her leadership, the College is spearheading efforts to: integrate immigrants into the economic mainstream; provide outreach to at-risk communities; build strong partnerships with industry; and advance international and interdisciplinary collaboration.
Beginning her career at Bell Canada in 1977, Sado rose steadily from her first position as Manager – Traffic Order Writing to become Senior Vice President – Business Processes and Operational Effectiveness, in which position she supported the delivery of $1 billion in earnings improvements over two years in 2001 and 2002. Upon leaving Bell, she became a Principal in Helix Commerce International, where she supported initial business development in this now highly successful professional service business.
Her ambitious involvement in the community includes service on federal, provincial and community advisory groups, including as a Director to the Trillium Health Centre, one of Canada's largest tertiary care community hospitals, and as a former Director and President of the YWCA Toronto.
A recipient of the Ontario Professional Engineers Citizenship Award for contributions to her community, Sado has also been recognized with the University of Toronto's Arbour and Mid Career Achievement awards, and the Queen's Golden Jubilee Medal – Canada.
A past director of the Ontario Society of Professional Engineers, and current member and
Chair of the Wardens of Camp One for the Ritual of the Calling of the Engineer, Sado's ideas, energy and integrity extend her influence across Ontario, Canada and internationally. In recognition of her achievements, she was selected as one of 14 women to participate in the International Women's Foundation Leadership Program in 2001 and 2002.