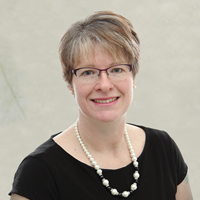 Amanda J. Froese, P.Eng., FEC
Grand River Chapter
A passionate and determined supporter of the engineering profession, Amanda Froese has been a model volunteer and leader in both her chapter and community for 12 years.
Amanda began volunteering with the Grand River Chapter as an Engineering Intern (or EIT) in 2000, a time when only P.Engs were able to serve on the chapter executive. She championed an expanded role for EITs and participated on a PEO task force that resulted in increased influence and prominence for EITs in the chapter system through permitting their service on chapter executives.
Once a member of the chapter executive in 2002, she made an immediate impact by advocating for improved chapter programming for local engineering students. She helped to forge strong relationships with the two engineering societies within the chapter boundaries—at the universities of Guelph and Waterloo—ensuring that representatives of each were invited to chapter meetings and participated in developing topics of mutual interest. At her insistence, the chapter also began to offer regular information sessions for graduating students from both schools on the importance of, and process for, becoming licensed.
As chair in 2007 and 2008, Amanda advocated for increasing the chapter's role in the community by promoting chapter events and initiatives. She also attended many chapter leaders conferences and regional congresses to bring the experience of the Grand River Chapter to others.
In 2013, she led the organization of a networking event to discuss ways to make the profession more accessible, continuing her commitment to encouraging young women in the profession. She continues to influence young minds as an Engineer-in-Residence at Tait Street Public School in Cambridge .
Amanda ardently promotes volunteerism within the chapter, and can be credited for inspiring and recruiting newly licensed engineers and established professionals to become involved in the governance of the association.
"I started volunteering with the chapter as a way to get to know other people in a new town and in the industry," Amanda says. "Working at a small firm, networking outside the office was important. I stayed on the chapter for so long, because it was fun and I felt like I was making a difference. Now with EIR I have changed my focus of volunteering, but still feel enthusiastic about engineering and want to take that to the next generation."