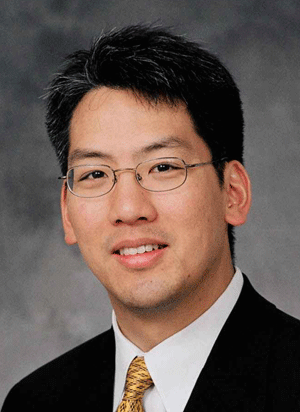 Tom Chau, Ph.D., P.Eng.
Scientist and Innovation Theme Leader, Bloorview Research Institute, Bloorview Kids Rehab Assistant Professor and Canada Research Chair in Paediatric Rehabilitation Engineering, University of Toronto
Described by peers as "a rising star in the research community", Dr. Thomas Chau has already enhanced the quality of life of scores of children with disabilities through his innovative research at the Bloorview Research Institute.
In 2004, Dr. Chau was awarded the Canada Research Chair in Pediatric Rehabilitation Engineering to support his work in smart chip technology to help bridge communication gaps between children, parents and the children's assistive devices. The smart chip devices Dr. Chau is developing and testing will assist children who have lost the ability to speak, have difficulty swallowing, or who require prosthetic limbs.
Dr. Chau and his team have also created a music curriculum that uses a simple video camera to track the movement of children with severe physical limitations and translate that movement into music. This enables the creation of music by children who, in the past, could only dream of playing a musical instrument.
An emerging leader in the field of rehabilitative engineering, Dr. Chau received the Duncan L. Gordon Post Doctoral Fellowship from the Hospital for Sick Children Foundation in 2000.
In addition to his work at Bloorview Kids Rehab, Dr. Chau plays a significant role in mentoring, inspiring and training the next generation of rehabilitation engineering researchers as an assistant professor at the Institute of Biomaterials and Biomedical Engineering at the University of Toronto.