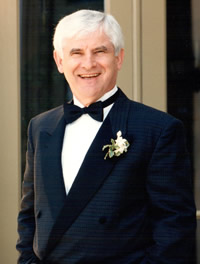 Sigmund Soudack, P.Eng.
Principal, Sigmund Soudack and Associates Inc.
Throughout his distinguished 50-year career, Sigmund Soudack has applied his innate creativity and inventive nature to improving structural systems and materials to enable ever-more innovative and inspiring structures to be built.
As principal of Sigmund Soudack & Associates Inc., he has overseen the structural design of over 400 high-rise buildings in Ontario since 1968, thereby consolidating the firm's reputation as the go-to structural engineering firm for the design of condominium towers, especially those with ambitious design challenges.
Recognized for his ground-breaking, thorough and cost-effective engineering solutions, Soudack works with the philosophy: "You can always throw money at a problem, but that's not good engineering."
Among his creative successes is the curvaceous Absolute Towers development in Mississauga. Part of a five-building development, the 56- and 50-storey elliptical towers—the larger of which is affectionately referred to as the Marilyn Munroe tower—have won numerous awards. To solve the engineering challenges imposed by every floor plate in the signature building being different and the inherent problems posed by the concrete floor slabs extending from the interior to form balconies that wrap around the buildings, Soudack developed a new method for installing a thermal break, rather than using a more expensive product on the market. He also helped develop flying forms, a system for high-rise construction that uses large, truss-mounted assemblies that a crane hoists upward from floor to floor. Used in erecting the Mississauga towers, the system is now widely used in high-rise construction.
Soudack's other landmark projects include the New York Towers, ARC Condominiums and the Kilgour Estate in Toronto, as well as office buildings, shopping centres, industrial buildings, and long-term care residences throughout the province.
He was also responsible for the largest structural move of a house in Canada's history—the 800-tonne James Cooper Mansion on Toronto's Sherbourne Street in 2008. This 126-year-old building was moved 20 feet to the west to allow for excavation of a parking garage and the Mansion's permanent slab.