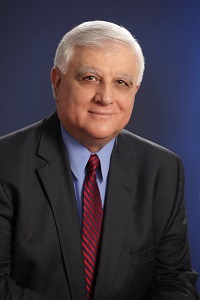 Siemens Canada – Dual Education Program
​Head of Siemens Canada Engineering & Technology Academy
With a goal of closing the skills gap between knowledge learned at school and the know-how required at modern manufacturers, as well as developing the next generation of leaders, Siemens Canada's Dual Education Program is an innovative work-integrated learning program (WILP) that equips Canadian engineering and engineering technology students with the educational and professional foundation required for successful twenty-first century manufacturing careers.
Modeled on Siemens AG Dual Education System in Germany, the program combines the skills and knowledge acquired through academic programs with a parallel curriculum delivered at corporate-sponsored academies. It is designed to provide a set of complementary skills and experience required by industry. ln addition, it offers a structured and robust mentorship program, as well as a corresponding hands-on work experience that enables young recruits to immediately see the relevance and importance of what they learn at both academic institutions and through the academies by placing them in a real-world work environment that demonstrates the value and importance of what they learn.
The Dual Education Program offers several benefits to engineering and engineering technology students:
-Students attend an enhanced co-op program at Siemens Canada during their final two years of university or college during established academic co-op terms.
-They are hired by Siemens Canada and paid a full-time salary and benefits throughout their enrollment with Siemens Canada Engineering and Technology Academy (SCETA).
-Siemens pays their tuition while they are enrolled with SCETA for up to a maximum of two years prior to their graduation from university or college.
-Upon graduation, select students are offered full-time positions at Siemens Canada.
Learning methodologies include classroom, e-learning, Siemens systems and product training, mentorship rotations across Siemens business units, as well additional hands-on experience in various areas of applications.
SCETA students can follow several different career paths within Siemens Canada including: engineering and technology; project management, business development, management and manufacturing.
Siemens Canada has been actively promoting this program among its professional networks and is sharing resources with other prospective employers so that they can adapt and implement a WILP within their own organization. Doing so helps to better position Canada to address industry challenges and, ultimately, become more competitive.
​
​Seven schools in Ontario and Alberta currently participate in the program, including the University of Waterloo, McMaster University, Ryerson University, the University of Alberta, Algonquin College, Mohawk College and the Northern Alberta Institute of Technology.