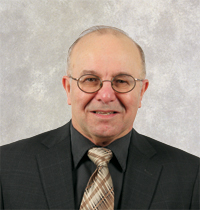 Raymond Edward Linseman, MASc, P.Eng., FEC
Thousand Islands Chapter
Since his induction into the Order of Honour as a Member in 1996, Ray Linseman has continued to demonstrate conspicuous and significant service to the profession.
A tireless promoter of and advocate for the chapter system, Ray has devoted countless hours and solid leadership as a member of the Thousand Islands Chapter executive since 1984. He chaired the chapter from 1985 to1987, 1988 to 1992, 2011 and 2012, and was treasurer from 1997 to 2010. Ray has been a regular participant in PEO's AGM and Chapter Leaders Conferences, and played a leading role in advocating for PEO's first-ever, on-line council candidate debates in 2012.
Ray was a dedicated member of PEO's Awards Committee (AWC) for 15 years, until stepping down in 2011 to chair the Thousand Islands Chapter once again. During his tenure on the committee, he significantly influenced PEO's awards program, including helping to return the Order of Honour and the Ontario Professional Engineers Awards to annual events, and creating an Order of Honour medal that can be displayed when not being worn. The medals being presented this evening are a result of that initiative.
Ray was also instrumental in revamping the AWC guidelines into an easy-to-use reference document, introducing an action register to the committee's operations, and generating a PEO Awards Program Overview Presentation to use in soliciting nominations at Regional Congresses. He has been a member of the events steering subcommittee and a fixture at awards gala ceremonies, addressing behind the scene details that contribute to the success of the on-stage presentations.
In 2011, Ray was presented with a PEO Volunteer Service Recognition Award pin for his 27 consecutive years of volunteer service.