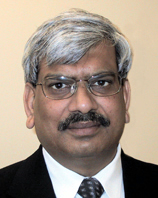 Praveen K. Jain, Ph.D., P.Eng.
Professor, Electrical and Computer Engineering, Queen's University
For the past 24 years, Praveen Jain has been actively involved in the research and development of high frequency power conversion technologies. He is considered one of the top leading authorities in the world in the practical applications of power electronics.
Jain has a natural ability to envision simple solutions to complex technical problems and then transfer these solutions into new designs. This ability has made him a tremendous asset to both academe and industry, to which he has successfully transferred technology from the university laboratory.
His work has resulted in 25 patents and over 200 publications. His designs have been successfully applied to telecom power supplies, induction melting, computers and space systems throughout the world.
At Queen's University, where he is a professor of electrical and computer engineering and Canada research chair in power electronics, Jain was able to attract millions of dollars in funding to conduct research and develop Canada's first high frequency power electronics laboratory. He has also supervised and guided over 50 graduate students, post-doctoral fellows and power electronics engineers in academic and industrial research.
He has received many awards and honours for his work, including a prestigious Tier 1 Canada Research Chair in Power Electronics at Queen's University, an Innovation Award from the Canada Foundation for Innovation, and an Ontario Distinguished Researcher Award from the Ontario Innovation Trust. He has also been named a Fellow of the Institute of Electrical and Electronics Engineers (IEEE).