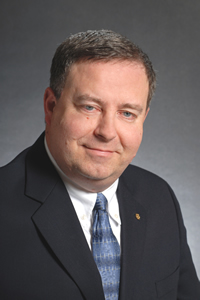 Peter R. Frise, Ph.D., P.Eng., FCAE
Scientific Director and Chief Executive Officer, AUTO21, Network of Centres of Excellence Executive Director of Automotive Research and Studies, University of Windsor
An internationally recognized leader in the field of automotive research, Peter Frise, Ph.D., P.Eng., has worked tirelessly to connect the auto sector with the postsecondary education system – with impressive results.
As the founding Scientific Director and Chief Executive Officer of AUTO21, a federal Network of Centres of Excellence, Dr. Frise has developed it into a successful network in Canada, engaging over 500 graduate students and 260 researchers with more than 120 institutions and public sector organizations across the country. The work of this internationally renowned network ranges from developing new protocols for child safety in cars, to producing materials with desired properties, to tackling advanced technical challenges in design, manufacturing and new vehicle powertrains and electronic systems.
A devoted educator, he established Canada's first university-level program in automotive engineering in 1998 at the University of Windsor, working with DaimlerChrysler Canada as NSERC Senior Industrial Research Chair to successfully develop engineers for the University of Windsor/DaimlerChrysler Canada Automotive R & D Centre. The Centre is a $600-million operation that uniquely focuses academic and private sector strengths on cutting edge research and development for the automotive industry. In addition, he is the university's Executive Director of Automotive Research and Studies, providing valuable mentorship through his supervision of graduate students in masters and Ph.D. programs.
A Fellow of the Canadian Academy of Engineering, Dr. Frise was appointed to the National Research Council of Canada in 2006.