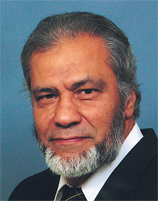 Mohamed A. Khattab, Ph.D., P.Eng.
Resident Consultant, National Steel Car Ltd.
Mohamed Khattab's engineering career began in 1964 in Cairo, Egypt. Now, as resident consultant (Director Design Engineering) for National Steel Car Ltd. (NSC), the largest railroad freight car builder in Canada, Khattab is known throughout North America for the design of freight cars and as an expert in steel weldment design.
When Khattab arrived at NSC in 1972, engineering design was almost a pencil and paper process. Armed with a multi-discipline academic education, he introduced some of his own analytical design techniques and the Finite Element Analysis (FEA) to the NSC's design process, and pushed for more computer capability. Today, the company is recognized for having the most sophisticated design and stress analysis capability of any railcar manufacturer in North America.
Khattab worked for NSC for 20 years before establishing his own M.K. Engineering firm. He is the author of nine published papers and a book, Track Train Dynamics, Fatigue Analysis of Freight Cars (not yet published). He has also authored a large number of patents in Canada and the U.S., which have made freight cars and their manufacture more efficient and cost effective.