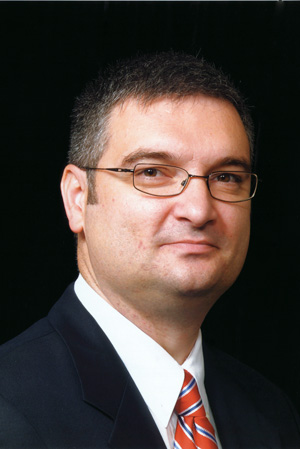 Milos Popovic, PhD, P.Eng.
Scientist, Toronto Rehab Assistant Professor, Institute of Biomaterials and Biomedical Engineering, University of Toronto
A scientist at Toronto Rehab and Assistant Professor at the Institute of Biomaterials and Biomedical Engineering at the University of Toronto, Milos Popovic, PhD, P.Eng., has focused his research on neuroprosthetic systems, exploring a radically new way of using this technology.
His work has given a new lease on life to many patients, enabling some suffering the effects of a stroke or spinal cord injury to walk or use their hands again, through the use of a walkman-sized device that helps to restore or replace the functions of a damaged nervous system.
Dr. Popovic and his team of engineers and clinicians are also developing interfaces that use brain signals to control such devices as personal computers, wheelchairs and robots. His team was one of the first in the world to use recordings from the surface of the human brain to control an external device.
Dr. Popovic's infectious enthusiasm and productivity have led to his involvement in applied research collaborations in engineering, rehabilitation and surgery worth more than $2 million. He was awarded the Toronto Rehabilitation Institute Chair in Spinal Cord Injury Research in 2007.