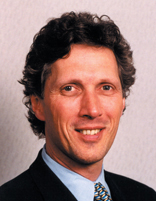 Mark J. Chamberlain, P.Eng.
Former President and CEO, Wescam
Through his pioneering vision, accountable leadership style and dedication to ethical business practices, Mark Chamberlain has demonstrated that a Canadian company can excel on the global stage.
After joining Wescam in 1985 and then becoming president and CEO in 1987, Chamberlain led a $1-million management buyout of the company. Under his direction, Wescam grew to become a $166-million technology success story and a world leader in visual information systems.
With a strong emphasis on research and development, he managed the business through the growth resulting from a series of rapid product introductions. From 1994-2002, four major product lines were introduced, serving military and commercial markets. Throughout this time, Chamberlain continuously challenged his team to stretch product capabilities, succinctly capturing the company's vision in the slogan "Changing the Way You See the World".
During his years at its helm, from which he retired in October 2003, Wescam won many awards, including an Academy Award for technical achievement, 16 Emmy Awards, a Canadian Business Tech 100 Award and a Canada Export Award. The company was also named one of Canada's Top 100 Employers in 2000 and 2001.