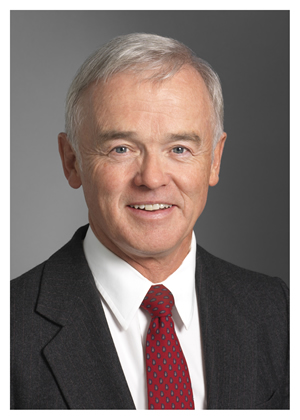 Lloyd Alexander McCoomb, PhD, P.Eng.
President and Chief Executive Officer, Greater Toronto Airports Authority
With more than 35 years of experience in transportation and engineering management, Lloyd McCoomb, P.Eng., is recognized throughout the world as Canada's leading practitioner in airport planning, functional design, finance, implementation and management.
As President and Chief Executive Officer of the Greater Toronto Airports Authority (GTAA), Dr. McCoomb manages a large, multi-disciplinary, non-share corporation with annual revenues topping $1 billion, an operating budget of over $570 million and 1300 professional and support staff. Since assuming leadership in 2007, he has set a new strategic direction for the airport authority, focusing on competitiveness, gateway development and corporate sustainability. This forward-thinking has greatly helped the GTAA to navigate the current economic downturn while preparing to take maximum advantage of the coming recovery.
In 1997, as the GTAA's Vice President of Planning and Development, Dr. McCoomb managed the planning, design and construction of the $4.4-billion revitalization and major expansion of Toronto Pearson International Airport. The project consisted of a $1-billion terminal, two new runways and associated taxi-ways, a new infield development, new fire halls, a new support building, new approach roads and bridges, new control towers, and the coordination of all activities. It is considered one of the largest infrastructure undertakings in North America, made all the more challenging by having to meet an aggressive delivery schedule within budget, while continuing to offer quality and safe service to over 30 million passengers each year.
Prior to joining the GTAA, Dr. McCoomb was a leader within Transport Canada, where he excelled in the areas of urban transportation research, ground transportation projects, the environmental assessment process, and transportation safety and security.
He helps to train the next generation of Canadian transportation engineers as an Adjunct Professor in civil engineering at the University of Toronto.