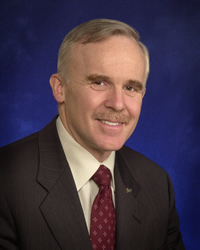 Lennox John Leggat, Ph.D., P.Eng, FCAE
Associate Consultant, CFN Consultants
For nearly 40 years, John Leggat has influenced and inspired Canadian defence science as a senior manager of research and technology programs in the federal government.
Prior to joining CFN Consultants as an Associate Consultant in 2005, Dr. Leggat was the Chief Executive Officer of Defence R&D Canada (DRDC) and the Assistant Deputy Minister (Science & Technology) of the Department of National Defence. There, he led a national network of six Defence Research Centres with a staff of 1400 people involved in cutting-edge defence science programs. He was responsible for the creation of DRDC in the year 2000, as a special operating agency of the Department of National Defence
Dr. Leggat has played various roles in Defence R&D during his career. From 1994 to 1997, he was Director General of the DRDC's Ottawa Research Centre; and from 1990 to 1994, he was responsible for the technology development program for the Department as the Director General R&D Operations at National Defence Headquarters in Ottawa. Prior to that, he spent 14 years at DRDC's Atlantic Research Centre, where he carried out research into ship and submarine technology relating to noise reduction, hydromechanics, ship structures and materials.
Following the events of September 11, 2001, he was called upon to lead the federal government's preparedness efforts against potential terrorist weapons involving chemical, biological, radiological or nuclear sources.
A Fellow of the Canadian Academy of Engineering and presently the Academy's President Elect, Dr. Leggat spent 33 years in the Reserve component of the Canadian Forces, retiring in 2001 in the rank of Colonel.