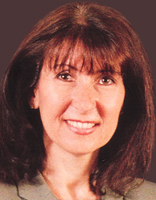 Kathy Milsom, P.Eng.
President and CEO, Canada Lands Company Ltd.
As president and CEO of Canada Lands Company Limited and its wholly owned subsidiary, Canada Lands Company CLC Limited (Canada Lands), Kathy Milsom is an inspiration for engineers aspiring to success in the top spot of a major corporation.
Her experience in property development and facility management span both the private and public sectors. After arriving at CLC Canada Lands in August 2000, Milsom led initiatives that significantly improved CLC Canada Lands' opportunities to manage and develop the federal government's strategic surplus properties. The company is involved in some of the most successful and internationally recognized redevelopments including Burnaby, B.C.'s Glenlyon Business Park, the Garrison Woods development in Calgary, the environmental remediation and subsequent revitalization of the former Moncton Shops site in New Brunswick, and ongoing ownership and operation of Canada's National Tower in Toronto.
To achieve this success, Milsom has placed high priority on outstanding governance and management practices, unquestionable standards of ethics and integrity, and the creation of an employee work environment that is optimally conducive to high morale and performance. The net effects of the change have been exceptional projects with outstanding financial performance.