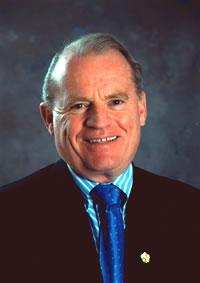 Howard D. Goodfellow, Ph.D., P.Eng.
President, Tenova Goodfellow
Howard Goodfellow, Ph.D., P.Eng., has been instrumental in demonstrating to the international steelmaking community the important role technology can play in the optimization of combustion processes and reducing the effects of emissions on the environment. During his career, he has offered specialized consulting and engineering design services to more than 1000 industrial and government clients.
Following a 16-year tenure with Hatch Associates, where he developed and grew the company's Environment, Health and Safety Division, he founded Goodfellow Consultants Inc., a niche engineering company focused on ventilation, industrial hygiene and healthy buildings. The company received the 1992 Canada Award for Business Excellence in the Environment field for developing DECSIM, a computer program to design specialized air pollution control systems.
In 1996, he became President of Goodfellow Technologies Ltd., and in 1998 as Vice President of Stantec Global Technologies Ltd. was responsible for developing and marketing the Goodfellow Electric Furnace System Optimization Program (EFSOP). He conceived, financed, developed and commercialized this award-winning technology, designed to optimize the steelmaking process and reduce contaminant emissions from electric arc furnaces.
As President of Tenova Goodfellow, Dr. Goodfellow leads and oversees the corporate operations of the Tenova Centre of Excellence for Clean Technology. In May 2005, Tenova Goodfellow received a $4-million grant from the Sustainable Development Technology Canada Foundation to fund projects demonstrating the application of the Goodfellow EFSOP technology to basic oxygen furnace (BOF) steelmaking, cement production and thermal electric power.
Dr. Goodfellow has been an Adjunct Associate Professor in the Department of Chemical Engineering and Applied Chemistry at the University of Toronto for more than 20 years and until recently was a Professor at the university's Lassonde Mineral Engineering Program teaching a fourth level course on Ventilation and Occupational Health.