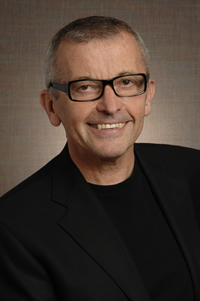 George Liebermann, Ph.D., P.Eng., FCAE
Senior Engineering Fellow, Xerox Research Centre of Canada
Throughout his career, George Liebermann, Ph.D., P.Eng., has demonstrated an abiding interest and focus towards excellence in the profession of chemical engineering.
Since 1981, Dr. Liebermann has held various senior scientific and managerial positions at Xerox Research Centre of Canada, where more than 120 scientists and engineers work on applied materials research.
Dr. Liebermann is recognized by the international technical community as a chemical engineering process research and scale-up expert, whose work has yielded more than 40 U.S. patents, many of them related to imaging materials and printer and copier consumables, such as the photoreceptor materials, toners and inks used in Xerox products over the last two decades. His technical strength is credited as a key reason the company has been able to deliver so many imaging materials inventions to market. To recognize his success, he was presented the Xerox President's Award, the company's highest honour, in 1997.
A Fellow of the Canadian Academy of Engineering, Dr. Liebermann has also contributed to the profession through involvement with the Canadian Society for Chemical Engineering (CSChE) and the American Institute of Chemical Engineering (AIChE). As a result of his leadership, the AIChE Process Development Division was created which has renewed interest in this area, sparked involvement from existing members and was the catalyst for the participation of several new industry groups.
In addition to his primary professional responsibilities, Dr. Liebermann has mentored and coached many chemical engineers and scientists during his distinguished career. Currently, his Lean Six Sigma Black Belt assignment at Xerox utilizes his expertise as the Canadian Research Centre on-site coach for green and black belt candidates.
Dr. Liebermann is a member of the programming committee of the 2009 Montreal World Congress of Chemical Engineering, and will be the 2008 chair of the Chemical Engineering Technology Operating Council of the American Institute of Chemical Engineers.