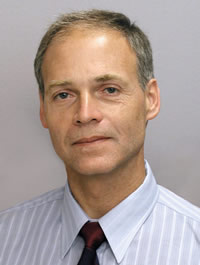 Frank J. Vecchio, Ph.D., F.A.C.I., P.Eng.
Professor, Civil Engineering, University of Toronto
An internationally respected researcher and renowned authority on the behaviour of concrete structures, Dr. Frank Vecchio has contributed substantially to increasing the safety and reliability of Canada's infrastructure.
His research has focused primarily on developing theories, models and procedures to better analyze and predict the response of concrete structures to various loading conditions, including earthquakes, blasts, impact and high temperatures.
His work led to the development of the Modified Compression Field Theory, upon which shear design procedures are based in Canada, the U.S. and Europe. This revolutionary advance led to a method to evaluate the shear behaviour of concrete members and also to what are, arguably, the most widely used constitutive models for concrete. Several shear design code specifications for building and bridge structures have since been developed based on this theory.
Dr. Vecchio also applied his research to develop a suite of software for predicting the response of concrete structures to practically any action. This software package, called VecTor, has been widely adopted by the engineering profession and is generally regarded as the gold standard. Unlike other widely used finite element codes, which are limited in their modeling of reinforced concrete structures behaving in the nonlinear range, VecTor has been shown to be capable of simulating the behaviour of shear critical elements under a wide variety of complex loading scenarios. Structures examined using this software include offshore platforms, nuclear containment structures, bridges, silos, shear walls, slabs and framed structures. In many cases, the VecTor analyses provided a means of accurately investigating complex nonlinear behaviour that was difficult or impossible by other means.
A sought after researcher in Canada, Dr. Vecchio has collaborated with colleagues from around the world and published nearly 100 papers during his 30-year career.