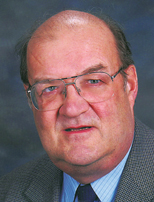 Douglas W. Scott, P.Eng
Manager of Engineering, City of Thunder Bay
Douglas Scott is widely regarded for his contributions to the infrastructure and environment of Thunder Bay and Northern Ontario. With a long and distinguished career in engineering consulting and managing in the public sector, he is known as a "vessel of wisdom" within the industry.
As the manager of engineering for the City of Thunder Bay, Scott has directed such important engineering projects as the sewage treatment and water supply facilities in Keewatin, Kenora, Marathon, Sioux Lookout and Thunder Bay, as well as Thunder Bay's Island Drive Bridge, the Neebing McIntyre Floodway and the Thunder Bay Waterfront Park. He was also a key player in the completion of Thunder Bay's Pollution Prevention and Control Plan (PPCP), which is recognized across Canada as a leading example of a municipal environmental protection plan. This project was recently recognized by the FCM-CH2M Hill Sustainable Community Awards Program in the Wastewater category.
Scott's strong engineering management skills and his ability to deal effectively with senior levels of provincial and federal government to access funding have been the keys to successful implementation of many of his projects. His negotiating skills led to his appointment as Mediator and Arbitrator to the Forest and Tourism industries by the Ontario Ministry of Natural Resources in 2001.
With a strong commitment to his profession, Scott is active in the Canadian Water and Wastewater Association and has served as a lecturer in municipal engineering at Lakehead University and as a member of the advisory council for civil engineering technology at Confederation College. He has also participated in several career fair activities to advocate engineering as a career.