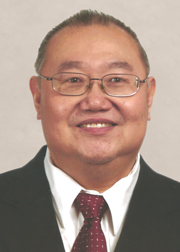 Christopher Yuen Fun Kan, P.Eng., FEC
Porcupine/Kapuskasing, Simcoe/Muskoka Chapters
Christopher is widely recognized as a pillar of support to the profession, committed to increasing its visibility through his extensive PEO chapter and committee activities.

His dedication to chapter affairs has been inspiring and contagious. He served on the Porcupine/Kapuskasing Chapter executive from 1993 to 1995 and from 2004 to 2008, including two terms as chair. That chapter's volunteers face some extra challenges, as it is one of the largest chapters geographically, yet one of the smallest in its membership. Despite this situation, chapter events were always well attended during Christopher's tenure on the executive, when it wasn't unusual to see 75 per cent of chapter members attend major affairs. This supports statements from colleagues who suggest Christopher has a gift for organizing events and mobilizing the membership.

Christopher was also successful in advancing the work of PEO's Government Liaison Program. Local politicians and city officials frequently participated in chapter events, including licensing ceremonies at which newcomers to the profession often received their certificates from a prominent member of the community, such as the mayor.

A passionate advocate of education outreach initiatives, Christopher helped the chapter form a lasting partnership with Science Timmins, a volunteer-run charity that promotes science and technology throughout northeastern Ontario through such activities as the Northeastern Ontario Science Fair.

Upon retiring and moving south to Barrie, Christopher continued his service to the profession in 2013 on the Simcoe/Muskoka Chapter executive, before dedicating his time to work as an ambassador of PEO's Repeal of the Industrial Exception Task Force. His understanding of the pulp and paper industry contributed to the work of the task force and helped PEO refine its case to the government.

Christopher has also served on the association's Advisory Committee on Volunteers since 2010, chairing it twice.
Click here to watch Christopher's gala tribute video