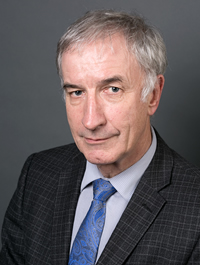 Brian L. Garrod, P.Eng., FCAE
Executive Vice President, Hatch Mott MacDonald Ltd.
As the executive vice president and deputy practice lead for tunnels with Hatch Mott MacDonald (HMM), Brian Garrod has led some of the most challenging and innovative tunnelling projects in the world and is widely considered to be the foremost expert in his field.
He began his engineering career in 1970 working in contracting in the UK. On joining Hatch in Canada in 1974, he worked on industrial projects in Ontario and Trinidad. He discovered his passion for tunnel engineering and technology soon after, while working on the tunnel and underground station design for the Vancouver SkyTrain, and has devoted the last 34 years of his 44-year engineering career to tunnelling projects and promoting best practices and innovations in the underground industry.
Garrod has played a prominent role on many of the world's most complex infrastructure projects, including the Channel Tunnel–the 50 kilometre, triple tunnel connecting England and France–the Boston Harbor outfall, the Dulles Airport people-mover tunnels in Washington, D.C., the San Francisco Bay Area Rapid Transit extensions, the St Clair Tunnel, the enlargement of the Windsor-Detroit rail tunnel and the tunnels in Tel Aviv's $8-billion mass transportation system.
Garrod has helped establish tunnelling in North America as a cost-effective, predictable and safe construction practice, as demonstrated by such recent and current southern Ontario projects as Ontario Power Generation's massive new Niagara Diversion Tunnel, the City of Toronto's Coxwell Sewer emergency bypass tunnel, York Region's Southeast Collector tunnels and the long-awaited pedestrian tunnel to Toronto's Billy Bishop Airport. Additionally, he has been involved in every bored-tunnel subway constructed by the Toronto Transit Commission, including the Sheppard Subway Line, Spadina Subway Extension and the Eglinton Crosstown LRT.
One of his most significant contributions to the industry is in developing HMM's in-house estimating system for tunnels, which has been used to provide hundreds of estimates for complex and high-risk projects with an unprecedented level of accuracy.
Garrod encourages aspiring tunnel engineers to set high standards in design and management practices through his active involvement with the Tunnelling Association of Canada, where he has served for four years as national president and for many years as director for Ontario.