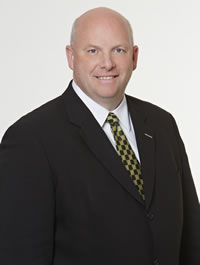 Todd Arthur J. Young, P.Eng.
Vice President Customer Services, Bombardier Commercial Aircraft
The successful and innovative leadership of Todd Young over the past 28 years has helped to strengthen Ontario's position in the world as a major centre of aviation.
His rapid ascension through the industry began at de Havilland Aircraft of Canada Ltd. in 1986 as one of the first engineers at the company to work using computer-aided design. Today, Young is responsible for the worldwide fleet performance of Bombardier's commercial aircraft, which include more than 2700 aircraft, each of which flies on average over six times each day. As vice president, he oversees a team of more than 640 employees that tracks and manages every aspect of aircraft performance while delivering on the company's financial objectives.
To improve the company's customer service footprint, Young envisioned, designed and implemented a worldwide service expansion strategy and road map that now provides regional support office services to international customers. This strategy has expanded Bombardier's customer base, improved response time, increased sales, improved quarterly customer survey results and earned the company several customer service awards. Internally, he led negotiations with one of Bombardier's primary labour unions through three separate contract renewals without any labour disruptions.
Recognized as an innovative leader, Young introduced a new work culture at the Toronto site; dubbed the "Achieving Manufacturing Excellence". The new system enabled the site to take responsibility for all aspects of its business, from manufacturing through to management. The success of the Toronto program resulted in its adoption across all Bombardier facilities worldwide as the "Achieving Excellence System".
Young is also committed to developing the engineers of the future, as evidenced by his instrumental role in establishing the Ryerson Institute of Aerospace Design and Innovation (RIADI). RIADI has trained more than 230 students since its inception in 2003, providing unique training opportunities through involvement in real-life aerospace industry projects. Young has been a member of the institute's board of directors since 2004 and its chair since 2008. Additionally, he was one of the leaders who helped the University of Toronto launch the Institute for Multi-Disciplinary Innovation (IMDI) and has been its chair since 2012. He has also been a member of the board with the Ontario Aerospace Council (OAC) since 2003 and its chair since 2006.