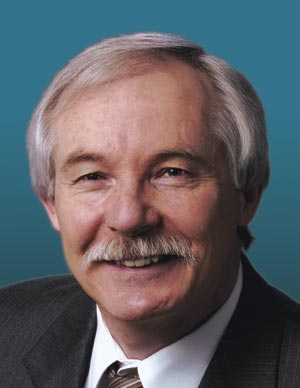 David A. Richards, P.Eng.
As a member of PEO's North Bay Chapter, Dave Richards has played a leading role in promoting the engineering profession in his community.
Engineer Richards' dedication to the North Bay Chapter Executive spans 20 years, in the roles of Director, Vice Chair, Chair and Past Chair. Among other things, he was responsible for initiating the chapter's annual golf tournament and served as its Co-chair for 15 years. This event has evolved into a major networking opportunity for local engineers and a source of funding for the North Bay and District Association for Community Living.
Dave has also devoted countless hours to reaching out to young people on behalf of the profession. He has actively supported and assisted in organizing the chapter's student and community outreach activities, including serving as Vice Chair, Chair and organizing committee member for 20 years of the annual North Bay Engineers' Day. He has also been involved in Students' Night and Casino Night and has judged at the annual North Bay Regional Science Fair. On behalf of the North Bay Chapter, Dave has spoken to numerous elementary and secondary student groups on engineering as a profession.
Driven by his concern for the quality of engineering education, Dave chaired two Program Advisory Committees for civil engineering at Canadore College for seven years. The committees' role was to recommend curriculum modifications to address the changing needs of the engineering profession.
It is for such ongoing support of his chapter's activities combined with his efforts to promote the engineering profession to young people and improve engineering education that Professional Engineers Ontario is proud to recognize David A. Richards by investing him as a Member of the Order of Honour.