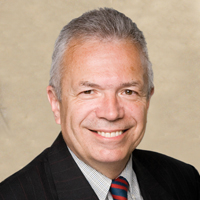 Corneliu E. Chisu, P.Eng., FEC, MP
Scarborough Chapter
Corneliu Chisu, a member of the Order of Honor since 2006, has since pursued even more compelling and meaningful ways of rendering outstanding service to the profession.
A retired major in the Canadian Forces Military Engineers, Corneliu has expanded his leadership role within the profession, continuing his faithful service that began when he joined the Scarborough Chapter in 1989.
A dedicated advocate for an open and inclusive profession, Corneliu has long been a mentor for newcomers to Canada on the requirements for licensure in Ontario and how to best integrate into the professional community. He had the opportunity to see the success of many of his protégés as the chapter's licence certificate presentation coordinator for 12 years.
Described by colleagues as a "committed servant of the profession", Corneliu was elected as PEO East Central Regional councillor in 2007. His passion for a strong governing body led to his election again as vice president in 2009 and 2010. He has also made significant contributions to the association as a member of the Executive, Audit, Registration, Discipline, Awards, Regional Councillors and Legislation committees and several task forces.
An ardent supporter of PEO's Government Liaison Program, which promotes the value of PEO's contributions to the development of public policy relating to the profession, and engineers' contributions to public policy generally, Corneliu took this idea one step further through his election in 2011 as the Member of Parliament for Pickering-Scarborough East. Despite this new and demanding role, he still continues to devote significant time to promoting the value and merits of the engineering profession at the national level, noting that "volunteering for the profession is an honour and a duty".