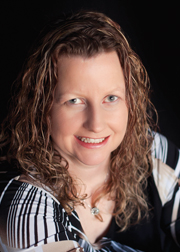 Angela R. Scott, P.Eng., FEC
Chatham-Kent Chapter
For 15 years, Angela Scott has demonstrated a tireless enthusiasm for the profession and a passion to further the development of current and future licence holders.
Since 2001, Angela has excelled in leadership roles on the executive of the Chatham-Kent Chapter, first as education coordinator, and finally as vice-chair and chair. She was instrumental in developing the chapter's education outreach program, one that begins with students at the elementary level and ends as they enter university. The program's initiatives include classroom visits, design competitions, a bursary program and highly successful engineering PA day camps run by engineers and local high school students.
In 2003, she developed and organized engineering competitions to include in local National Engineering Month activities. These events, which Angela ran for several years, continue to be held by the chapter and provide hundreds of students an opportunity to have fun while exploring the profession each year.
A natural leader, Angela has been an active participant in the governance of the profession through service on PEO's Advisory Committee on Volunteers and the Education Committee's conference organizing committee. She has also been an informed representative for her chapter and region at Regional Congresses, Chapter Leaders Conferences and annual meetings.
A source of encouragement to many engineering interns, she has coordinated numerous seminars for and directly assisted applicants as they navigate through the licensing process.
Dedicated to seeking opportunities in which she and her engineer colleagues can contribute to their community, Angela has been influential in organizing and running an annual golf tournament and curling bonspiel, both of which raise funds for the chapter's bursary program and local food bank.
Watch Angela's gala tribute video here.