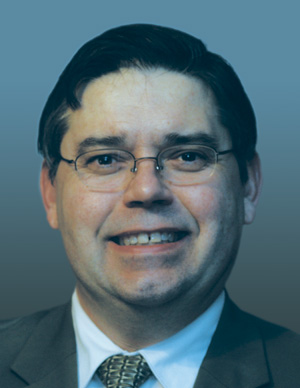 Allen K. Lucas, P.Eng.
Throughout his years of dedicated service, Allen K. Lucas has been a tireless champion of PEO's chapter system.
Chairing the Regional Councillors Committee for three years, and as a member of the Chapter Structure and Revitalization Team committees, Allen helped establish roles and responsibilities for the chapters that complement PEO's regulatory function. As a result, chapters now develop and administer community-based programs that enhance and promote engineering, and the role of PEO, in their communities.
An active member of the Quinte Chapter Executive for 10 years, he enthusiastically participated in community outreach on behalf of the profession. He was among those involved in creating and demonstrating the value of PEO's first satellite office, at Lakehead University, and was the driving force behind several Chapter Leaders' Conferences.
His tenure on PEO Council includes four years on the Executive Committee, as the Council-appointed Vice President for three years and the member-elected Vice President for one year. Allen's additional committee and task force service includes the Discipline Committee, Environment Committee, Nominating Committee, Regional Nominating Committee, which he chaired for two years, Licensing Process Task Force and Chapter Boundaries Task Force. In each instance, he provided insight and a focus on how chapters could contribute to achieving PEO's regulatory mandate.
Allen K. Lucas, P.Eng., is a relentless advocate on issues affecting engineering and the public's well-being. For his tenacious commitment to the profession, PEO is proud to invest him as an Officer in the Professional Engineers Ontario Order of Honour.