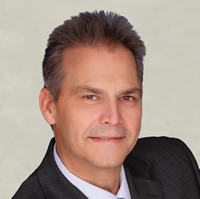 Dennis B. Pupulin, P.Eng., FEC
Windsor-Essex Chapter
During the past 10 years, the Windsor-Essex Chapter has enjoyed a resurgence of activities and an increased level of prominence in the community as a result of Dennis Pupulin's significant influence.
Dennis joined the chapter executive in 2004 and quickly made a positive impact on its operations, providing leadership in such capacities as treasurer, vice chair and chair for two years.
As chair, Dennis implemented measures of accountability within the chapter executive to ensure clarity of roles and responsible financial management. He also revitalized the executive by directly recruiting professional engineers from new fields and industries. These new volunteer leaders are now providing a wealth of new resources and networks to the board, and supporting the chapter's succession planning goals.
Under Dennis's leadership, the chapter organized its first Engineering Fair Day. Out of this success grew its largest and most successful annual initiative, called Innovation Station—Engineering Your Life, which promotes engineering and technology to approximately 20,000 people over three days at a local mall.
A strong advocate for PEO's outreach efforts to government, Dennis has been a valued contributor to his chapter's Government Liaison Program subcommittee, initiating and maintaining dialogue with local representatives about engineering and its importance in public policy formation. So inspired was he by these discussions that he ran as a candidate in a recent municipal election and also for PEO council.
An accomplished forensic engineer, Dennis has also provided valuable guidance to PEO's Professional Standards Committee since 2011 as a member of its Forensic Engineering Subcommittee.
"Reaching out to find a mind to inspire has led me to continue on the path of volunteering with pride for our great profession," says Dennis. "Participating within our association as a volunteer has rewarded me with vast opportunities to engage and cultivate new relationships with diverse professionals."